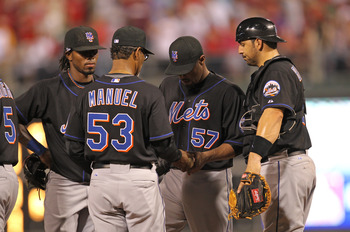 Mark Simon of ESPN New York just put some scary thoughts into my head this morning. While he has some good things to say about the Mets acquisition of D.J. Carrasco, there's one thing about him that looms ominously over his career.
But there is a kryptonite that has plagued Carrasco throughout his major league career, and it's one that reminds us of one of the Mets most significant statistical issues from last season.

It's his opponents batting average with the bases loaded. It's so hideous, I can't even bring myself to type it as a number. The first digit is a four. The second digit is a four. The third digit is a six. It gets worse. His opponents OPS with the bases loaded is 1.181.
It's a case of the more men on base, the merrier the opposition gets, he concludes. Suddenly all those grand slams from last season are racing through my mind, all twelve of them. Scary…
Carrasco has the second highest batting averageallowed with bases loaded among all active players in the major leagues.
Speaking of bases loaded, another factoid from Simon,
Wright's batting average with the bases loaded.  2004-2007  – .462   2008-2010 – .227
On a brighter note, Adam Rubin of ESPN New York, spoke with the newest Met, D.J. Carrasco by telephone and by the sound of it, he's excited to be with the Mets.
Carrasco is very willing to do whatever is asked of him, but made clear that he needs a lot of work to remain sharp.
"I'm capable of doing whatever they ask. I'd prefer to be in games that are going to lead to wins and holds and stuff like that — that the games are going to be winning games as opposed to blowout games. I can do the multiple inning kind of deal. I want to be used quite a bit. That's what keeps me sharp. That's another thing I told him. He had mentioned they would be using me a lot. That's exactly what I want. I want to be able to stay sharp."
The Mets will finalize the two-year deal after Carrasco completes his physical in New York on Thursday.
I enjoyed his comments about Citi Field and Mets fans:
"It was a beautiful field," he said. "I actually went there for the first time in my career last year when I got traded to the Diamondbacks — on two hours of sleep. I'm excited to play in the new park and with some passionate fans."
Carrasco, 33, had a 3.68 ERA in in 78.1 innings with the White Sox and Diamondbacks last season.
Welcome to New York D.J. and Good Luck!