As I wake up on a cloudy, Thursday morning, I remember what happened seven years ago. That faithful event that changed America forever. I lost an uncle and I'm sure some of you lost someone or knew who lost someone. I can't help but think about it and try and work my way around it today.
But, that's not what this blog is about. The first that pops in to my mind about sports during this time was the first baseball game back in NY since that faithful day. I'm sure many of you remember it too. Mike Piazza is all I need to say. I remember watching the game and being so emotional throughout as it was hard to even think straight during this time. But, I'm so thankful for the Mets for diverting my attention to something negative to something extremely positive.
The game was tied 1-1 going into the top of the eight when the Braves scored a run against John Franco. Mike Piazza comes up in the bottom of the eighth with a man on. I remember the whole stadium waiting for the pitch, and when he did hit that home run the crowd was just electric. He hit a two run home run that seemed to lift everything temporarily on everyone's shoulder. Everything that previous happened has left my head. All I could remember doing was cheering with my family members as we watched on the big screen T.V.
It was safe to say Mike Piazza was a savior. Not only did he revive the spirit of the Mets, but he revived the spirits of New York City. That day was a day where we lifted our heads up and went about our business. Piazza gave us that strength, that courage, and the power to do so. I can't believe it was seven years ago; seasons come and go, people change, the things happen. As the day goes on, I just wanna say "Thank You, to everyone."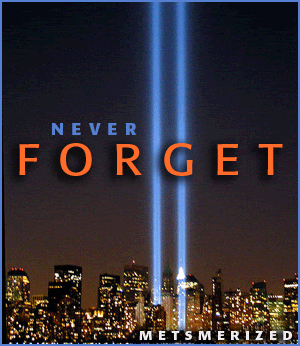 Note @ 7:30 — This game is now being shown on SNY, so if you'd like, take a minute and watch it. Thank you.